Jehanne Dousse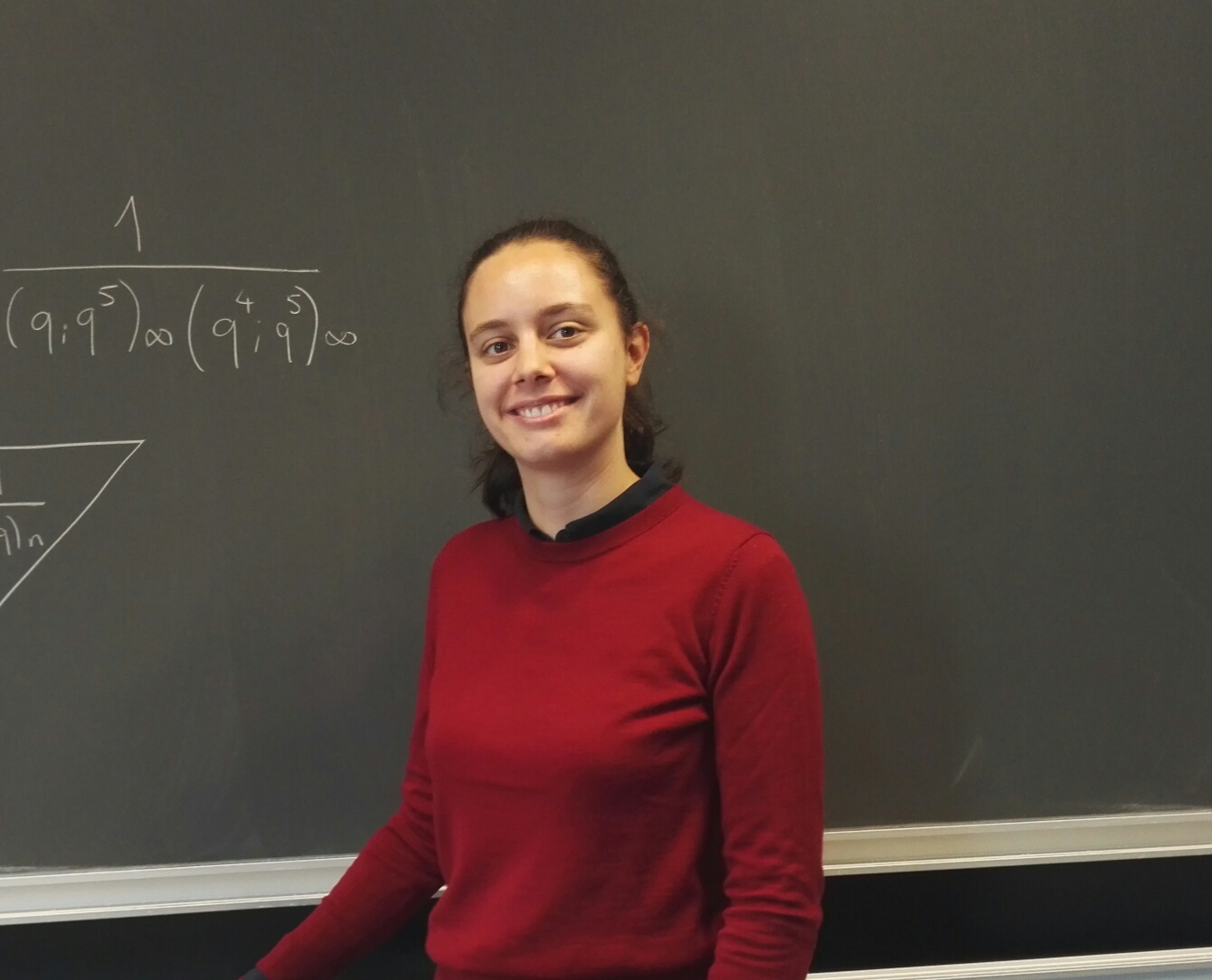 About me
I am a CNRS researcher at the Institut Camille Jordan (ICJ), Université Lyon 1.
Before that, I was a postdoc at the Institut für Mathematik, Universität Zürich, in the research group of Valentin Féray.
I completed my Ph.D. under the supervision of Jeremy Lovejoy at LIAFA (now called IRIF), Université Paris 7 Diderot, in September 2015. Here is the manuscript of my thesis "Integer partitions : Rogers-Ramanujan type identities and asymptotics".
My research interests are topics at the interface between Combinatorics and Number Theory, in particular integer partitions, q-series, asymptotics, additive combinatorics, and algebraic combinatorics.
My CV.
Contact
Postal address :
Institut Camille Jordan
Université Claude Bernard Lyon 1
43 Boulevard du 11 novembre 1918
69622 Villeurbanne Cedex
France
e-mail : dousse [at] math.cnrs.fr
Papers and preprints
Publications in conference proceedings
On partition identities of Capparelli and Primc (short version)
FPSAC 2019, Séminaire Lotharingien de Combinatoire issue 82B, article 53
The method of weighted words revisited
FPSAC 2017, Séminaire Lotharingien de Combinatoire issue 78B, paper 66
A generalisation of two partition theorems of Andrews
FPSAC 2015, DMTCS Proceedings, 27th International Conference on Formal Power Series and Algebraic Combinatorics (FPSAC 2015), pp.297-308, 2015
Teaching
At the University of Zurich
At Université Paris Diderot
Academic year 2014-2015: Teaching assistant (exercise sessions) for the course Elementary Algebra and Analysis I
Academic year 2013-2014: Teaching assistant (exercise sessions) for the course Elementary Algebra and Analysis II
Conferences and Talks
Mini-course at the summer school "Mathematical Summer in Paris", Paris, France, July 2021 (online).
Journées nationales du GDR-IM 2021, Paris, France, March 2021 (online).
Workshop on Enumerative Combinatorics 2021, University College Dublin, Ireland, February 2021 (online).
Colloquium, University of Maynooth, Ireland, February 2021 (online).
Conference "Asymptotic algebraic combinatorics", IPAM, UCLA, Los Angeles, USA, February 2020.
SFB-Statusseminar, Strobl, Austria, December 2019.
Séminaire de la détente mathématique, Maison des Mathématiques et de l'Informatique, Lyon, France, December 2019.
Number theory seminar, Université Blaise Pascal, Clermont-Ferrand, France, November 2019.
Combinatorics Seminar, University of California, Berkeley, USA, November 2019.
Number theory seminar, Université de Bordeaux, Bordeaux, France, October 2019.
Conference FPSAC 2019, Ljubljana, Slovenia, July 2019
Conference "Équations fonctionnelles et interactions", Anglet, France, June 2019
Algebra and Geometry seminar, La Sapienza, Rome, Italy, June 2019
Colloquium, Hong Kong University, Hong Kong, April 2019
Discrete Geometry and Combinatorics seminar, Cornell University, Ithaca, USA, April 2019
Journées Alea, CIRM, Marseille, France, March 2019
BIRS workshop "Asymptotic algebraic combinatorics", BIRS, Banff, Canada, March 2019
Probability seminar, ENS Lyon, France, February 2019
Théminaire, ENS Lyon, France, February 2019
2019 q-day Meeting, KIAS, Seoul, South Korea, January 2019
Combinatorics seminar, Sungkyunkwan University, Suwon, South Korea, January 2019
Journée de l'équipe Algèbre, Géométrie, Logique, ICJ, Lyon, France, January 2019
Journée de l'équipe Combinatoire et Théories des Nombres, ICJ, Saint-Étienne, France, December 2018
Discrete Math Days, Bogazici University, Istanbul, Turkey, October 2018
Algebra and Number Theory seminar, Sabanci University, Istanbul, Turkey, October 2018.
George Andrews' 80th birthday conference, The Pennsylvania State Universtity, State College, USA, June 2018
Combinatorics and geometry seminar, University of Washington, Seattle, USA, June 2018
Combinatorics and number theory seminar, Institut Camille Jordan, Lyon I, France, June 2018
"Vertex algebras and related topics" conference, University of Zagreb, Croatia, May 2018
Enumerative combinatorics workshop, MFO, Oberwolfach, Germany, May 2018
Colloquium, Queen Mary University, London, United Kingdom, December 2017
Colloquium, Carnegie Mellon University, Pittsburgh, USA, December 2017
Journée Charles Hermite "Théorie des graphes et théorie des nombres", Université de Lorraine, Nancy, France, November 2017
Colloquium, Hausdorff Center for Mathematics, Universität Bonn, Germany, November 2017
Discrete mathematics seminar, Universität Zürich, Switzerland, October 2017
Algebra seminar, University of Zagreb, Croatia, October 2017
Combinatorics seminar, Uinversity of California, Berkeley, USA, October 2017
Algebra and discrete math seminar, UC Davis, USA, September 2017
Discrete math seminar, Simon Fraser University, Vancouver, Canada, September 2017
Conference FPSAC 2017, Queen Mary University, London, United Kingdom, July 2017
Intercity number theory seminar, Utrecht University, The Netherlands, March 2017
Number theory seminar, Institut Joseph Fourier, Grenoble, France, November 2016
Discrete mathematics seminar, Universität Zürich, Switzerland, November 2016
Computations and proofs seminar, INRIA, Palaiseau, France, April 2016
Alladi60 conference, University of Florida, Gainseville, USA, March 2016
Journées Alea, CIRM, Marseille, France, March 2016
Discrete mathematics seminar, Universität Zürich, Switzerland, March 2016
Journées de Combinatoire de Bordeaux, LaBRI, Bordeaux, France, January 2016
Séminaire Flajolet, IHP, Paris, France, December 2015
Phd defense, Université Paris Diderot, France, September 2015
Conference FPSAC 2015, KAIST, Daejeon, Korea, July 2015
Number theory seminar, KIAS, Seoul, Korea, July 2015
Combinatorics seminar, LIAFA, Université paris Diderot, France, June 2015
Discrete mathematics Seminar, Universität Zürich, Switzerland, April 2015
Groupe de lecture "équations aux q-differences", Université Paul Sabatier, Toulouse, France, February 2015
Number theory seminar, Université de Lorraine, Nancy, France, October 2014
Number theory seminar, KIAS, Seoul, Korea, August 2014
LIX combinatorics seminar, Ecole Polytechnique, Palaiseau, France, June 2014
Atelier stéphanois de combinatoire additive, Université de Saint-Etienne, France, May 2014
Algebra and number theory seminar, University College Dublin, Ireland, April 2014
Journées holonomes, Institut Joseph Fourier, Grenoble,France, February 2014
CAESAR seminar, Ecole Polytechnique, Palaiseau, France, November 2013
Combinatorics seminar, LIAFA, Université Paris VII, France, November 2013
Number theory seminar, University of Cologne, Germany, October 2013
28th Journées Arithmétiques, Université Joseph Fourier, Grenoble, France, July 2013
Journées du GT Combinatoire Algébrique, Université Marne-la-Vallée, France, June 2013
CALIN seminar, LIPN, Université Paris XIII, France, May 2013
Combinatorics and number theory seminar, Institut Camille Jordan, Lyon I, France, May 2013
12ème forum des jeunes mathématiciennes, IHP, Paris, France, November 2012