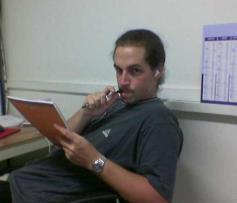 Philippe Nadeau
Je suis chargé de recherche CNRS à l'Institut Camille Jordan de l'Université Lyon 1, dans l'équipe de Combinatoire et Théorie des Nombres.
Je m'intéresse à des problèmes de combinatoire énumérative, bijective et algébrique.
Je suis coordinateur du projet ANR COMBINÉ .
Adresse email: nadeau at math dot univ-lyon1 dot fr.
En préparation
Remixed Eulerian numbers

, with Vasu Tewari.

Prépublications
Koszulity of dual braid monoid algebras via cluster complexes ,
with Matthieu Josuat-Vergès.

Description

The dual braid monoid was introduced by Bessis in his work on complex reflection arrangements. The goal of this work is to show that Koszul duality provides a nice interplay between the dual braid monoid and the cluster complex introduced by Fomin and Zelevinsky. Firstly, we prove koszulity of the dual braid monoid algebra, by building explicitly the minimal free resolution of the ground field. This is done explicitly using some chains complexes defined in terms of the positive part of the cluster complex. Secondly, we derive various properties of the quadratic dual algebra. We show that it is naturally graded by the noncrossing partition lattice. We get an explicit basis, naturally indexed by positive faces of the cluster complex. Moreover, we find the structure constants via a geometric rule in terms of the cluster fan. Eventually, we realize this dual algebra as a quotient of a Nichols algebra. This latter fact makes a connection with results of Zhang, who used the same algebra to compute the homology of Milnor fibers of reflection arrangements.

A q-deformation of an algebra of Klyachko and Macdonald's reduced word formula ,
with Vasu Tewari.

Description

There is a striking similarity between Macdonald's reduced word formula and the image of the Schubert class in the cohomology ring of the permutahedral variety Permn as computed by Klyachko. Toward understanding this better, we undertake an in-depth study of a q-deformation of the Sn-invariant part of the rational cohomology ring of Permn, which we call the q-Klyachko algebra. We uncover intimate links between expansions in the basis of squarefree monomials in this algebra and various notions in algebraic combinatorics, thereby connecting seemingly unrelated results by finding a common ground to study them.

Our main results are as follows. 1) A q-analog of divided symmetrization (q-DS) using Yang-Baxter elements in the Hecke algebra. It is a linear form that picks up coefficients in the squarefree basis. 2) A relation between q-DS and the ideal of quasisymmetric polynomials involving work of Aval--Bergeron--Bergeron. 3) A family of polynomials in q with nonnegative integral coefficients that specialize to Postnikov's mixed Eulerian numbers when q=1. We refer to these new polynomials as remixed Eulerian numbers. For q>0, their normalized versions occur as probabilities in the internal diffusion limited aggregation (IDLA) stochastic process. 4) A lift of Macdonald's reduced word identity in the q-Klyachko algebra. 5) The Schubert expansion of the Chow class of the standard split Deligne--Lusztig variety in type A, when q is a prime power.