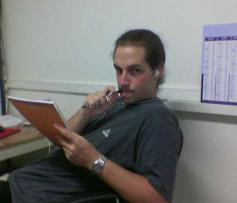 Philippe Nadeau
Je suis chargé de recherche CNRS à l'Institut Camille Jordan de l'Université Lyon 1, dans l'équipe de Combinatoire et Théorie des Nombres. Je co-organise le séminaire de l'équipe.
Je m'intéresse à des problèmes de combinatoire énumérative, bijective et algébrique.
Adresse email: nadeau at math dot univ-lyon1 dot fr.
Preprints
Length enumeration of fully commutative elements in finite and affine Coxeter groups ,
with Riccardo Biagioli, Mireille Bousquet-Mélou and Frédéric Jouhet.

Description

An element w of a Coxeter group W is said to be fully commutative, if any reduced expression of w can be obtained from any other by transposing adjacent pairs of generators. These elements were described in 1996 by Stembridge in the case of finite irreducible groups, and more recently by Biagioli, Jouhet and Nadeau (BJN) in the affine cases. We focus here on the length enumeration of these elements. Using a recursive description, BJN established for the associated generating functions systems of non-linear q-equations. Here, we show that an alternative recursive description leads to explicit expressions for these generating functions.
In preparation
Fully commutative elements and rationality.



Exposés
Plus ou moins récents.