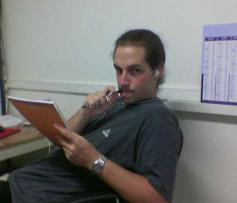 Philippe Nadeau
Je suis chargé de recherche CNRS à l'Institut Camille Jordan de l'Université Lyon 1, dans l'équipe de Combinatoire et Théorie des Nombres.
Je m'intéresse à des problèmes de combinatoire énumérative, bijective et algébrique.
Adresse email: nadeau at math dot univ-lyon1 dot fr.
Prépublications
321-avoiding affine permutations and their many heaps ,
with Riccardo Biagioli and Frédéric Jouhet. Accepted for publication in Journal of Combinatorial Theory, series A.

Description

We study 321-avoiding affine permutations, and prove a formula for their enumeration with respect to the inversion number by using a combinatorial approach. This is done in two different ways, both related to Viennot's theory of heaps. First, we encode these permutations using certain heaps of monomers and dimers. This method specializes to the case of affine involutions. For the second proof, we introduce periodic parallelogram polyominoes, which are new combinatorial objects of independent interest. We enumerate them by extending the approach of Bousquet-Mélou and Viennot used for classical parallelogram polyominoes. We finally establish a connection between these new objects and 321-avoiding affine permutations.

A Poset Structure on the Alternating Group Generated by 3-Cycles ,
with Henri Mühle. An extended abstract appeared in the proceedings of FPSAC 2017, London

Description

We investigate the poset structure on the alternating group which arises when the latter is generated by 3-cycles. We study intervals in this poset and give several enumerative results, as well as a complete description of the orbits of the Hurwitz action on maximal chains. Our motivating example is the well-studied absolute order arising when the symmetric group is generated by transpositions, i.e. 2-cycles, and we compare our results to this case along the way. In particular, noncrossing partitions arise naturally in both settings.
Exposés
Plus ou moins récents.